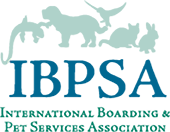 International Boarding & Pet Services Association (IBPSA), Accredited Facility
The International Boarding & Pet Services Association provides business resources, training and accreditation, and legislative support for the pet care services industry. IBPSA accreditation offers evidence of quality, the sharing of industry best practices, public accountability, and innovation exchanges with members around the world. Through the accreditation process, IBPSA provides external validation and confirmation of quality in a facility's standards and operations, and ensures that it exhibits the characteristics of excellence in honest marketing practices.
---
The Dog Gurus
Pampered Pets Bed & Biscuit is a member of The Dog Gurus and we have taken The Dog Gurus Safety Pledge. This means we made a commitment to design and operate our day care program for the safety of all dogs. We strive to ensure the physical safety of each dog with a goal for every dog to go home behaviorally and emotionally better than when they arrived.

---
Awards
We are proud to have been recognized in our community several times. In 2012, Pampered Pets Bed & Biscuit was selected for the Best of Fort Wayne Awards in the Pet Groomers category. In 2010, we were voted Best Pet Boarding Facility in Fort Wayne, IN. Thank you for voting!